Park Kyung-won was a pioneering Korean pilot who died in a plane crash in 1933, but is nowhere buried in South Korea. Even his alma mater there won't talk about the aviator.
In her homeland, Park is still known as a "woman who sold her soul to Japan".
Park's short life of chasing dreams and facing discrimination in Japan is featured in a video made by Lee Yu-bin, a 23-year-old South Korea, while studying at a lab seminar under the direction of Ryoichi Matsuno, a professor of media studies with Chuo University in Tokyo.
The video is approximately 30 minutes long and can be viewed free of charge online by the public.
Lee came to Japan at the age of 7 because of her father's job. She graduated from Chuo University in the spring after completing the video and is currently working for a broadcasting station in Kyushu.
She said she found similarities between her upbringing in Japan and Park's life.
Park was born in 1901 in what is now South Korea. Her dreams of becoming a pilot began after seeing stunts flying in Busan on her way to Japan at the age of 16.
At that time, the Korean Peninsula was under Japanese colonial rule, and Park was commuting between Japan and Korea to work and save money.
At 24, she enrolled in an aviation school in western Tokyo.
After asking for financial support from her compatriots, including through an article in the Korean newspaper Dong-A Ilbo, Park became only the third woman to obtain a Japanese second pilot's license.
She applied three times to pilot a "friendship flight" from Japan to Manchoukuo in northeast China, designed to promote unity between Japan, Korea and the Japanese puppet state.
Such flights have crossed the skies of the Korean Peninsula.
His first application was for a flight project sponsored by the Nagoya Shimbun newspaper, one of the predecessors of today's Chunichi Shimbun. But that required a first pilot's license, which was only accessible to men.
The Japanese Women's Aviation Association chose a Japanese woman, four years younger than Park, for its own flight program.
On her third attempt, Park was chosen to pilot a flight to Manchoukuo in 1933 to boost the morale of the Imperial Japanese Army troops.
However, due to bad weather, Park's plane crashed in the Atami Mountains, Shizuoka Prefecture, just 50 minutes after takeoff.
Lee started making her video three years ago after reading "Koerarenakatta Kaikyo" (Uncrossed Detroit), a biography of Park written by Mikiyo Kano, a women's history researcher, at the Chuo University library.
Lee herself struggled on arrival in Japan because of the language barrier.
"In a way, I projected myself on Park, who overcame hardships to make his dreams come true in Japan," said Lee.
She encountered difficulties at the start of her project as relations between Japan and South Korea again became strained over war issues.
Park's alma mater in the South Korean city of Daegu declined interviews and filming.
"I have nothing to say," Lee told him, quoting the school principal. "I don't know if Koreans would have a good opinion of someone who pursued a career as a pilot in Japan."
South Koreans dislike Park probably because she studied in Japan during the colonization period of 1910-1945.
In addition, the friendship flights were conducted as a symbol of "Japan-Korea-Manchukuo unity," a slogan that showed Japan's hegemony in East Asia.
Lee relied on the available documents and testimony to uncover the developments that led Park to do what she did.
"I think it was an inevitable choice back then," Lee said of Park's involvement in the robbery. "Park probably tried to send a message about his dreams to his compatriots by fighting against discrimination against women and ethnic discrimination."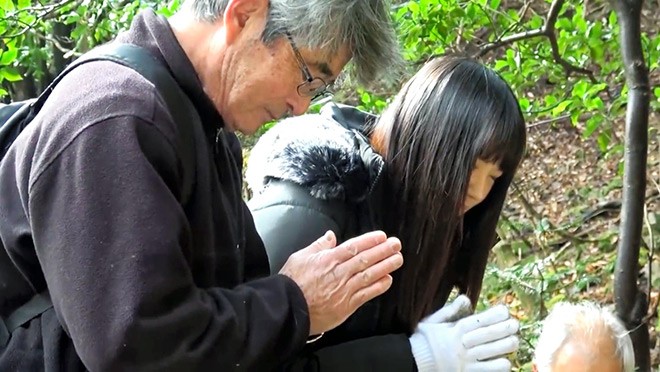 Residents of the Kami-Taga district in Atami, where Park's plane crashed, hold annual services for the aviator next to a memorial at the site. Lee went with them and filmed scenes from the service two years ago.
Residents braved the steep mountain slopes to the site, where they offered a can of beer and an orange and joined hands in prayer.
Lee said she felt relieved to learn that people in the community still remember Park.
In September, his video received the Best Minister of Education award in the Social Education Division of the Japan Audiovisual Education Association's National Competition for Homemade Teaching Materials.
"I hope that my work will be used by a wide audience as an educational aid so that the Japanese and South Koreans can discover Park's character and the strength of his will," said Lee.
The video can be viewed on the Matsuno Lab Seminar's "Tama Tankentai" website at http://www.tamatan.tv/archives/20210427_post-57/.